An American-style rooftop terrace, a café in a museum or a magnificent terrace in a courtyard… The choice is yours! Where to find these hidden gems? Here are our top picks for terraces in Europe.
1. Paris – Le Mandarin Oriental
Romance is in the air in Paris – on Mandarin Oriental's rooftop terrace, to be precise! Set on Faubourg Saint-Honoré, one of the prettiest thoroughfares in Paris, the hotel boasts a rooftop terrace with a splendid view of the city, plus appealing decor, a cozy little corner and an exquisite menu. It's the perfect place for a dinner date, too. Discover it as soon as you can!
251 Rue du Faubourg Saint-Honoré, 75001 Paris, France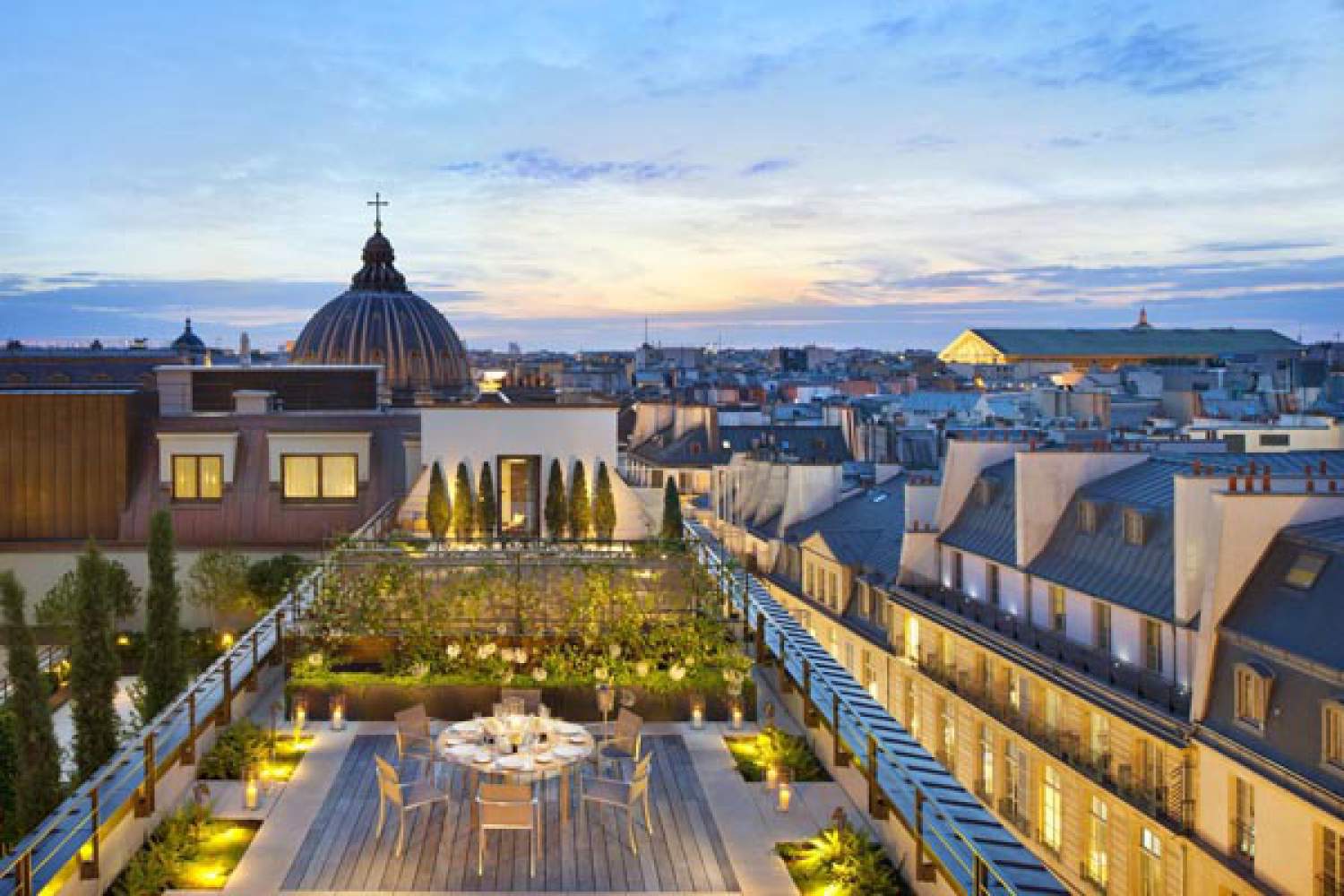 2. Paris – Rosa Bonheur
 Rosa Bonheur went from being a well-kept secret to an institution. Nestled in the heart of the Parc des Buttes-Chaumont, this rustic, open-air café has a terrace with a panoramic view and serves organic salads, charcuterie platters and aperitifs. There's no better place to slow down and enjoy city life… You might even forget you're in Paris!
2 Avenue de la Cascade, 75019 Paris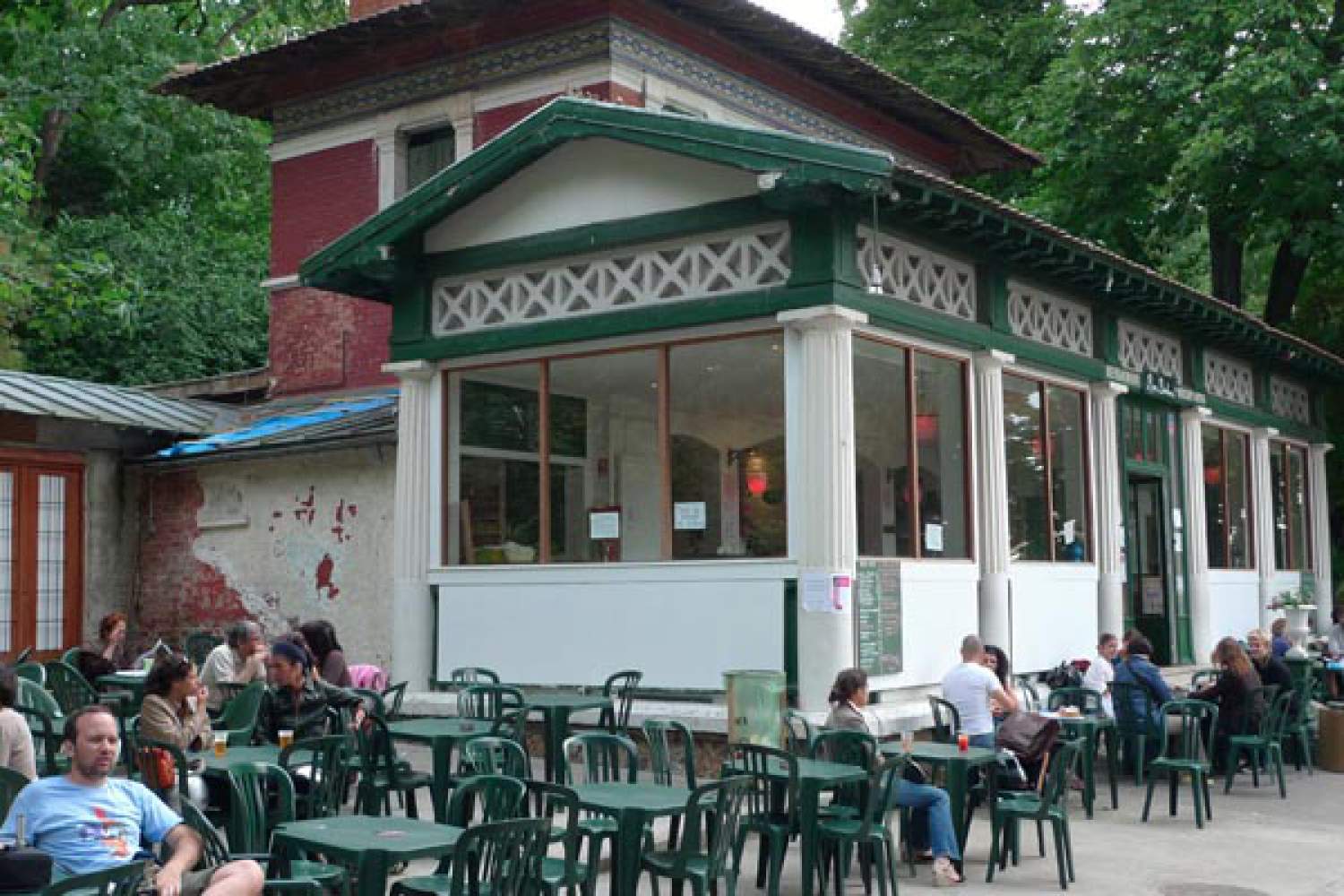 3. Barcelona – La Terraza at Hotel Duquesa de Cardona
 Overlooking the port and Basilica de la Mercè's dome in the Gothic quarter, close to La Rambla, the terrace at Duquesa de Cardona is known for its laidback atmosphere. Teak flooring, subdued lighting, city lights and the peacefulness of the Mediterranean… A little gem!
Passeig de Colom, 12, 08002 Barcelona, Spain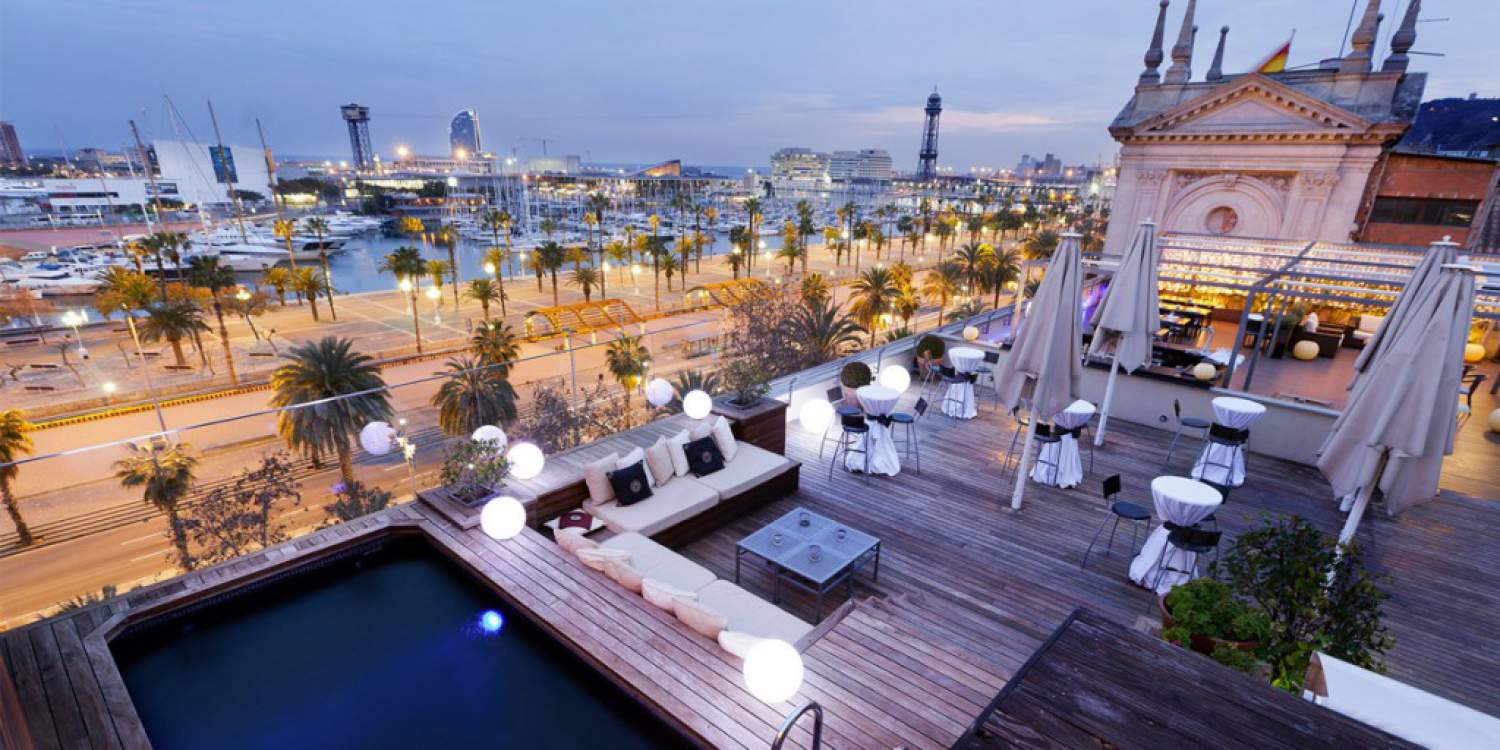 4. London – Radio Rooftop Bar – ME London
One visit to the 10th floor of the ME London (from Mélia) and you'll be hooked! Radio Rooftop is an ultra-hip bar perched above the effervescent English capital. The impressive cocktail list is topped off by the panoramic view of London's most iconic monuments, like the Tate Modern, Saint Paul's Cathedral and the Tower Bridge, to mention a few.
336-337 The Strand, London, UK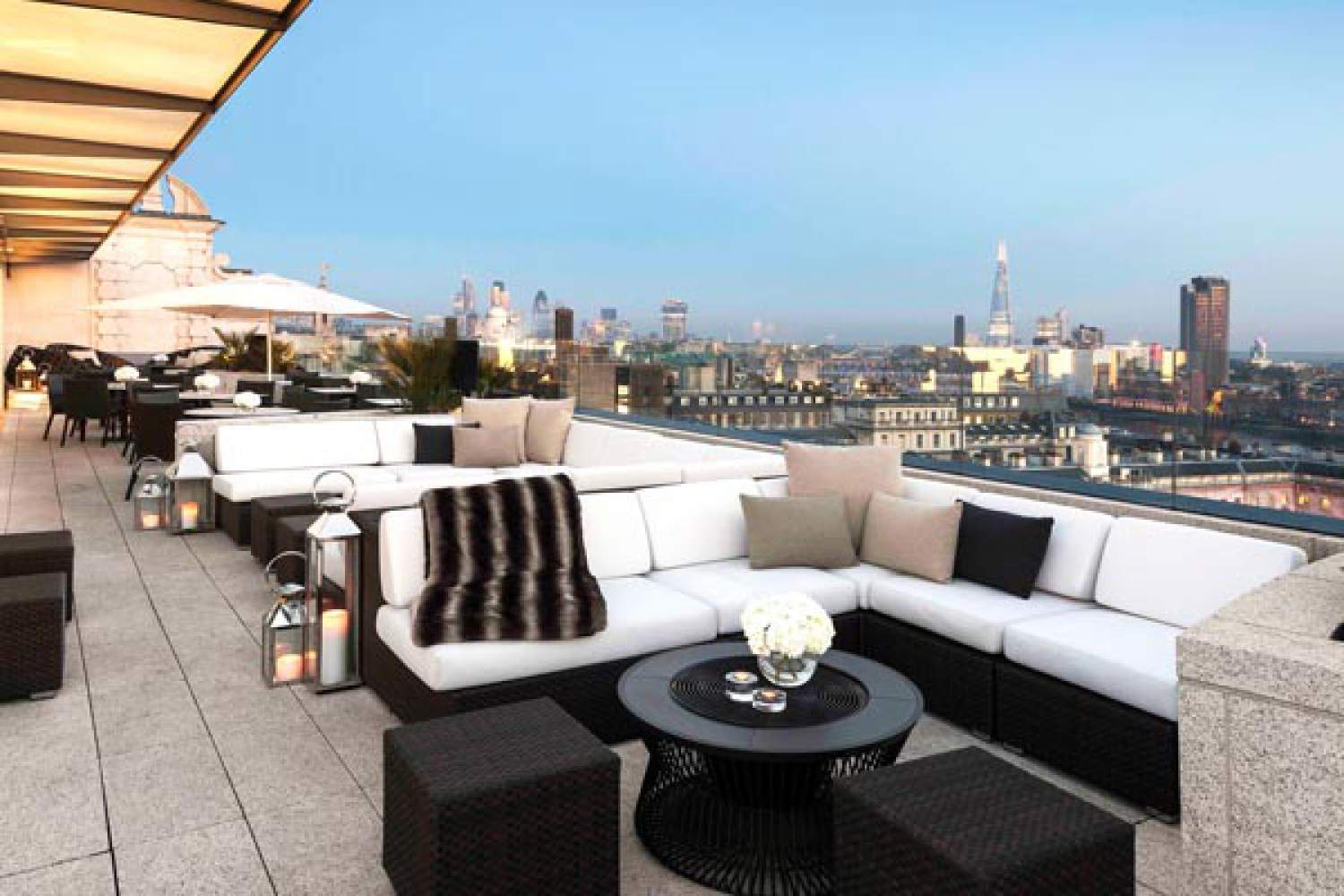 5. Amsterdam – Café de Jaren
 For a beautiful view of the Amstel River, try Café de Jaren's lively terrace, where breakfast is served by the canal in a welcoming atmosphere. The menu also features simple yet savoury bites that are great for sharing. Friendly service, a charming set-up… Nothing fancy, but that's what makes it special!
Nieuwe Doelenstraat 20 – 22, 1012 CP Amsterdam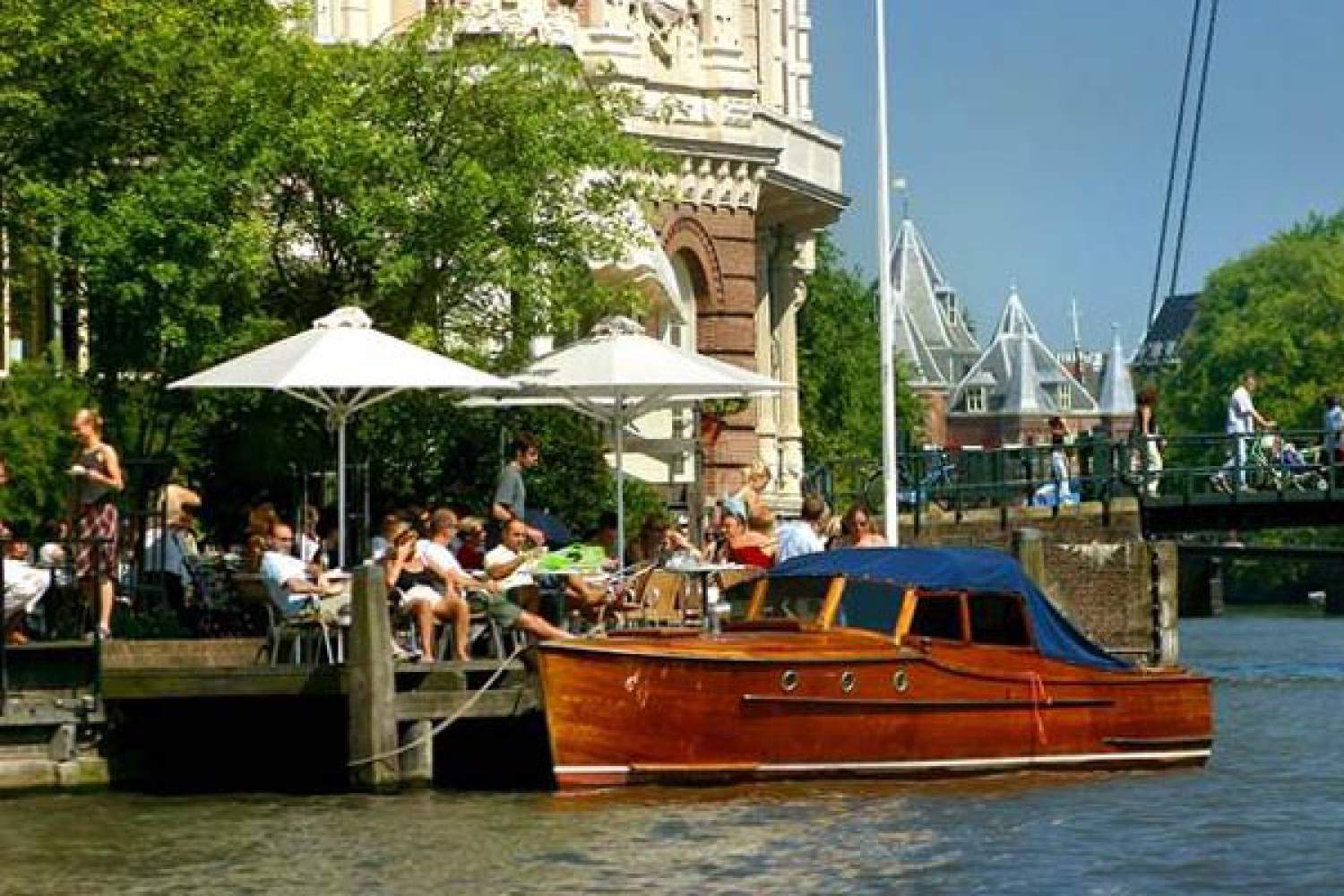 6. Ibiza- KM5
 For breathtaking views of the sea, the fun and sophisticated KM5 in Ibiza is worth a visit. This glamourous outdoor bar will delight you with its gastronomic cuisine and captivating music, and immerse you in Ibiza's legendary atmosphere.
Ctra. Ibiza, San Antonio-Ibiza, 5, 07830 Sant Josep de sa Talaia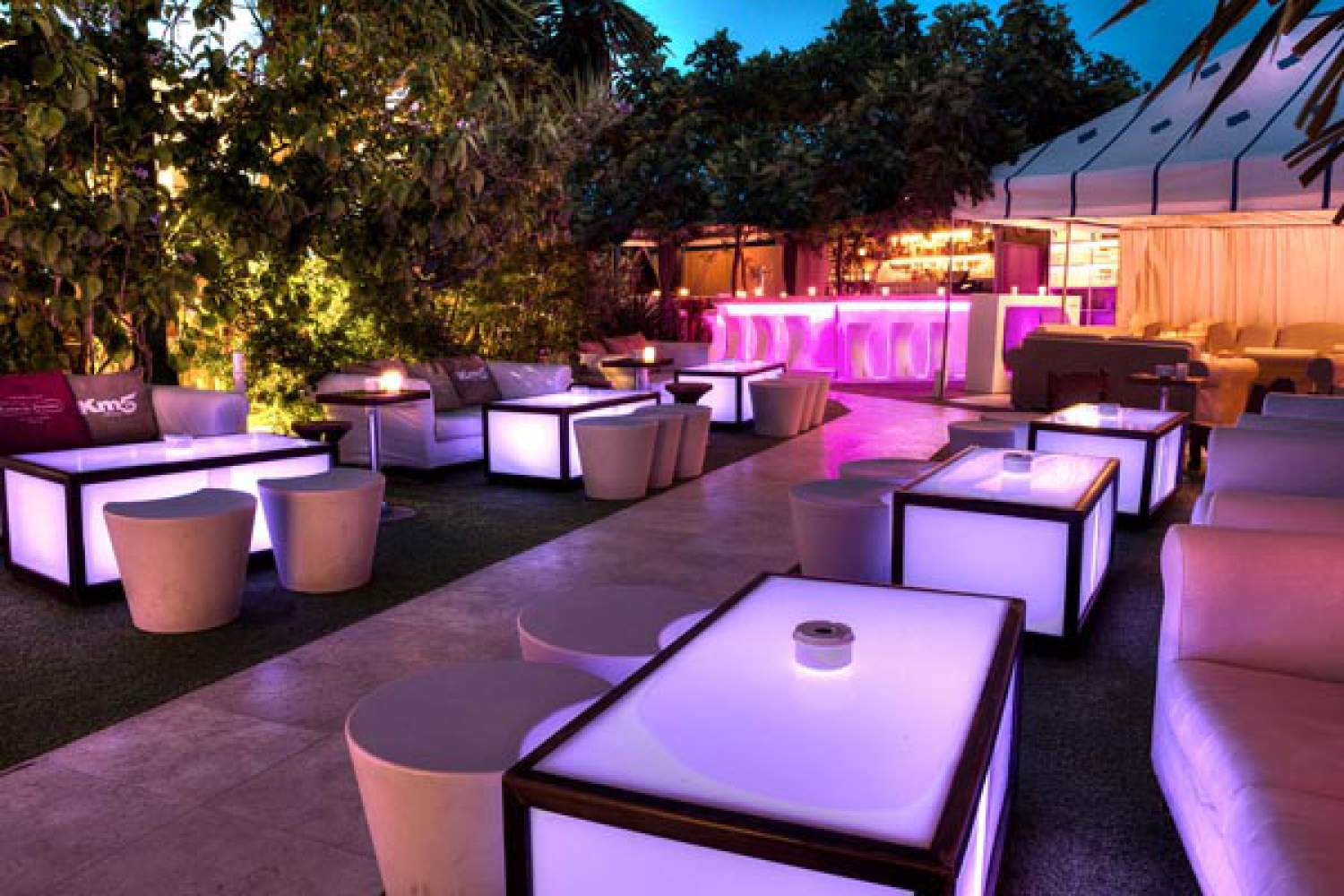 7. Geneva – Café Lauren at La Réserve Hotel
Bordering Lake Geneva in Geneva, the luxurious La Réserve boasts a magnificent, 4-hectare garden that's home to the intimate and refined Café Lauren, hidden away from the general public in a calm and serene setting. This terrace is a terrific breakfast spot where you can also sit back and relax with a cocktail.
Route de Lausanne 301, Geneva, Switzerland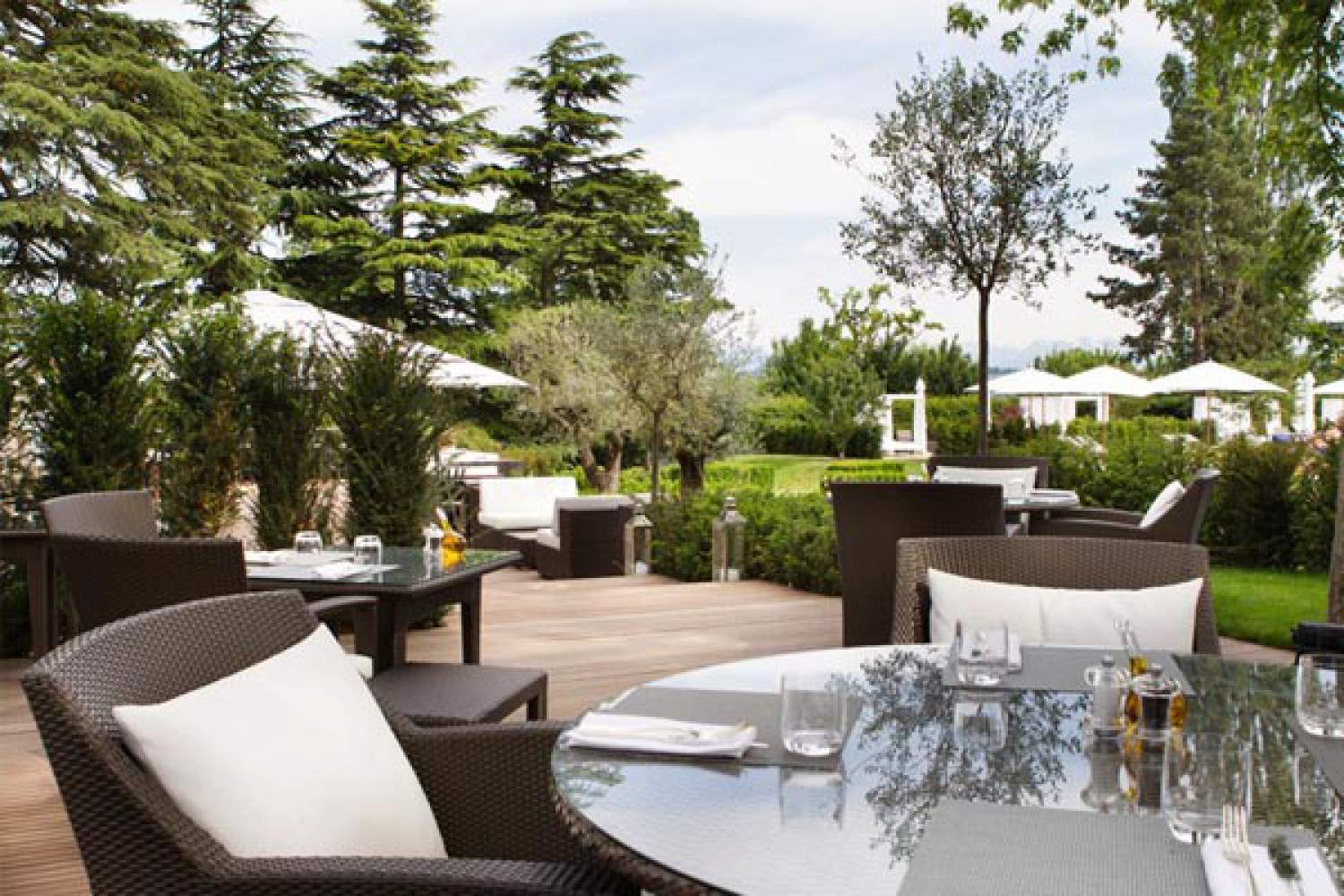 8. Rome – La Terrasse Cuisine & Lounge Villa Borghese, Hotel Sofitel
Located on the roof of the Sofitel, La Terrasse Cuisine & Lounge Villa Borghese is the ideal place to watch the sun set over Rome with a drink. With a location close to the Piazza di Spagna and the Trevi Fountain, you'll get to live the magic in an intimate and sophisticated place overlooking the Eternal City. An absolute must!
Via Lombardia 47, 00187 Rome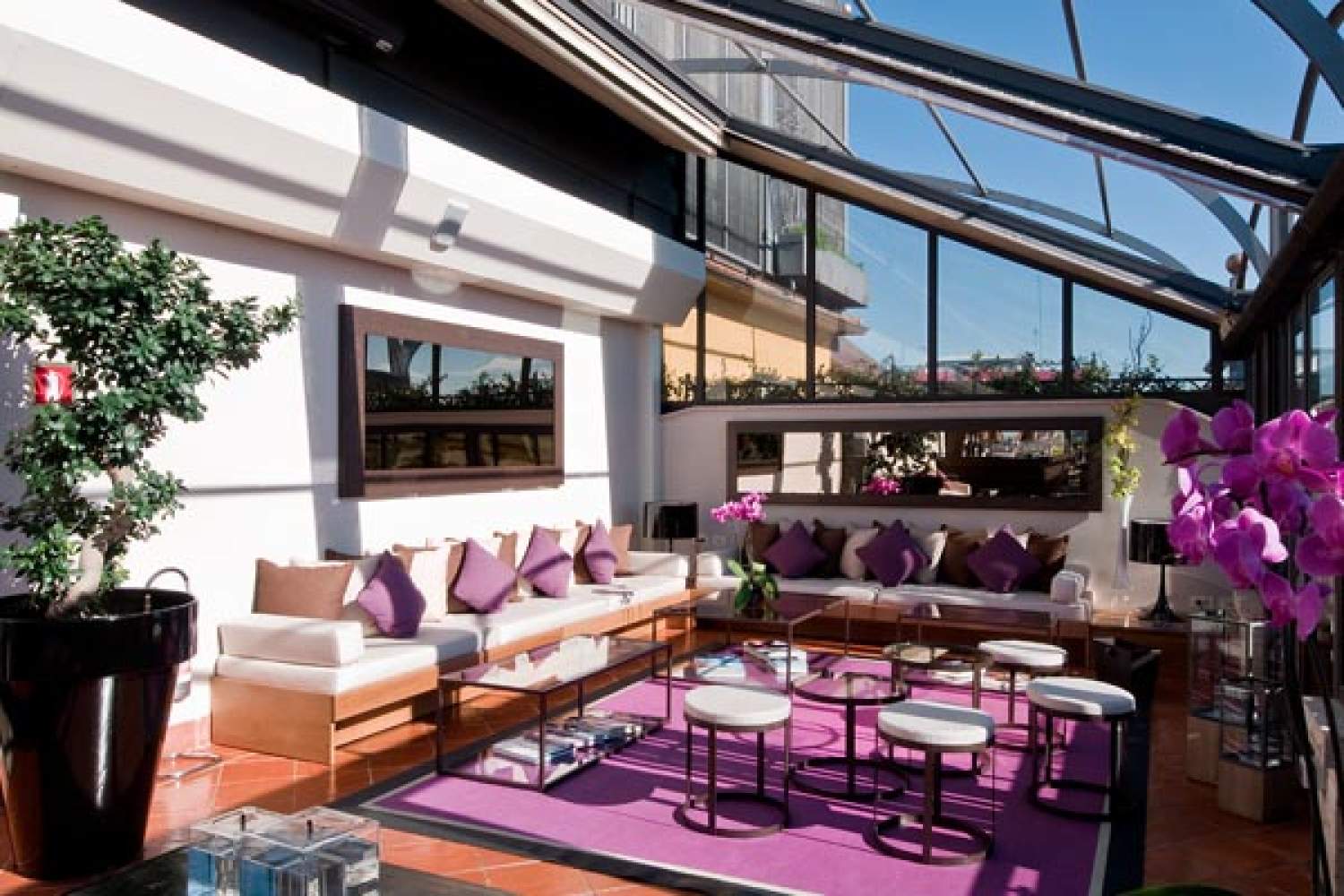 9. Croatia – The Venetian San Marco terrace at Hvar Palace Hotel
They say this is one of the nicest terraces on the Adriatic! The stone decor makes it seem like you're floating above the "Pjaca" (square). The Venetian-style San Marco terrace of the Hvar Palace Hotel serves dinner under Croatia's starry night sky, and its soft music sets the mood for romance and relaxation. Perfection!
Trg Sv Stjepana 5, Hvar, Hvar Island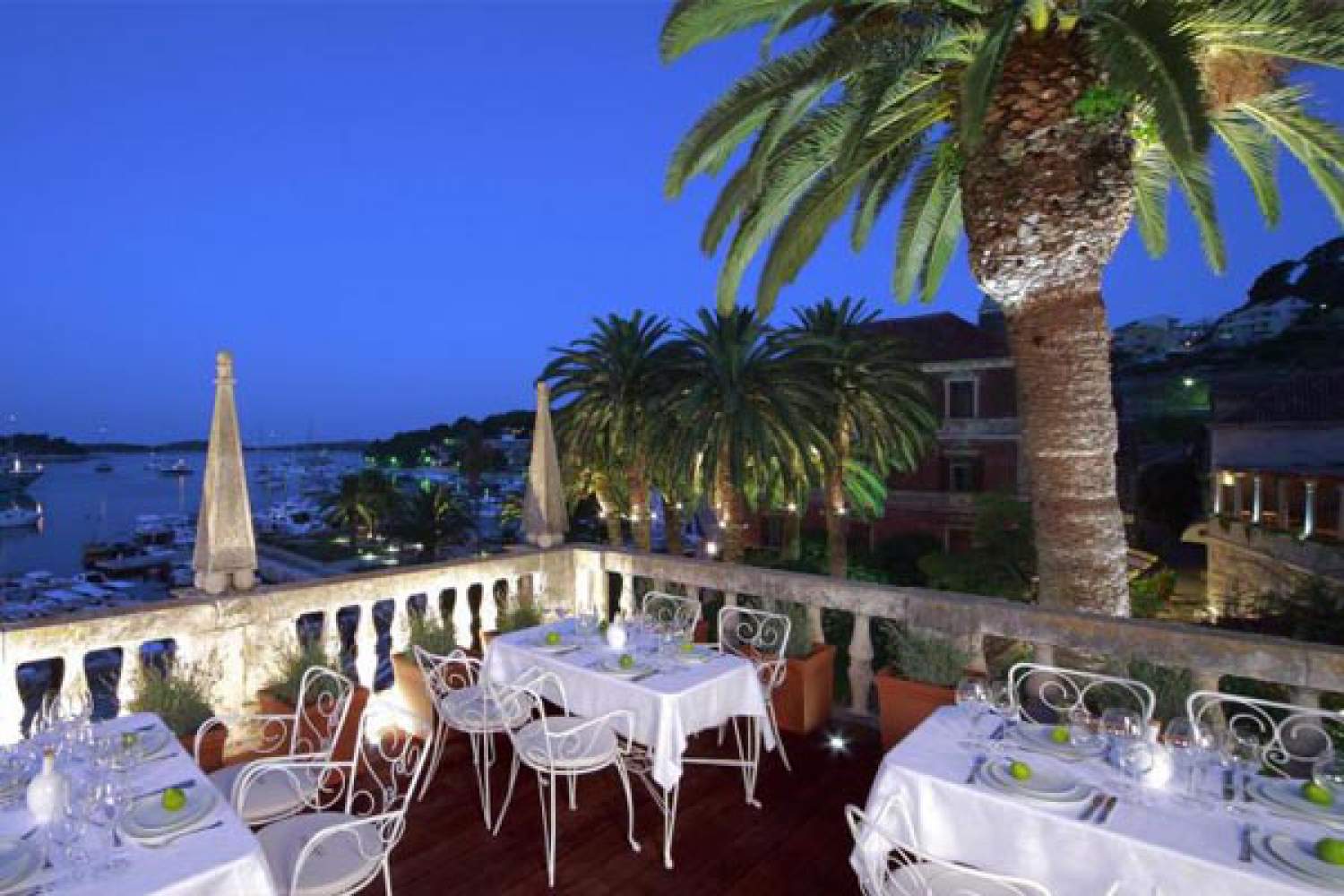 10. Prague – Au puit doré, Restaurant Terasa
Tucked away in Prague is the terrace at Au puit doré, a place you'll want to keep to yourself. Located at the end of an alley, next to Baroque gardens that stretch below the castle, this restaurant offers a breathtaking view of Malá Strana's rooftops, the Vltava River and the towers of the Old Town. With fine cuisine accompanied by delicious Czech wines, you're in for a wonderful evening!
Restaurant Terasa, U Zlaté studně 4. Prague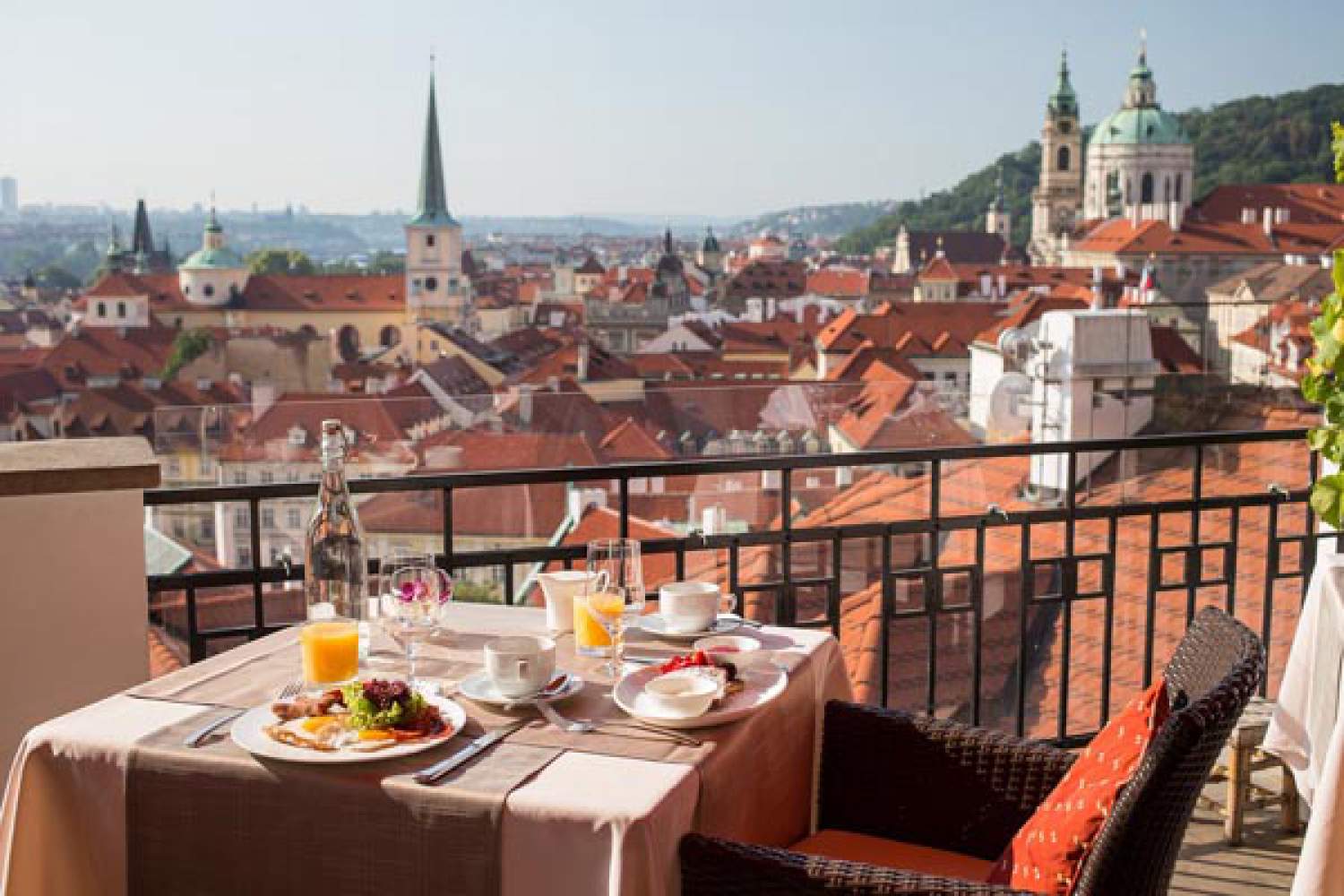 What are you waiting for before visiting all of these terraces? Will you sample the ones in Paris, London, Rome, Prague, or those in Spain and Croatia? Air Transat flies to all of these destinations from Canada.
The comments and contributions expressed are assumed only by the author. The recommendations, intentions or opinions expressed are not necessarily those of Transat AT Inc. or its affiliates. See terms of use of the Air Transat website.